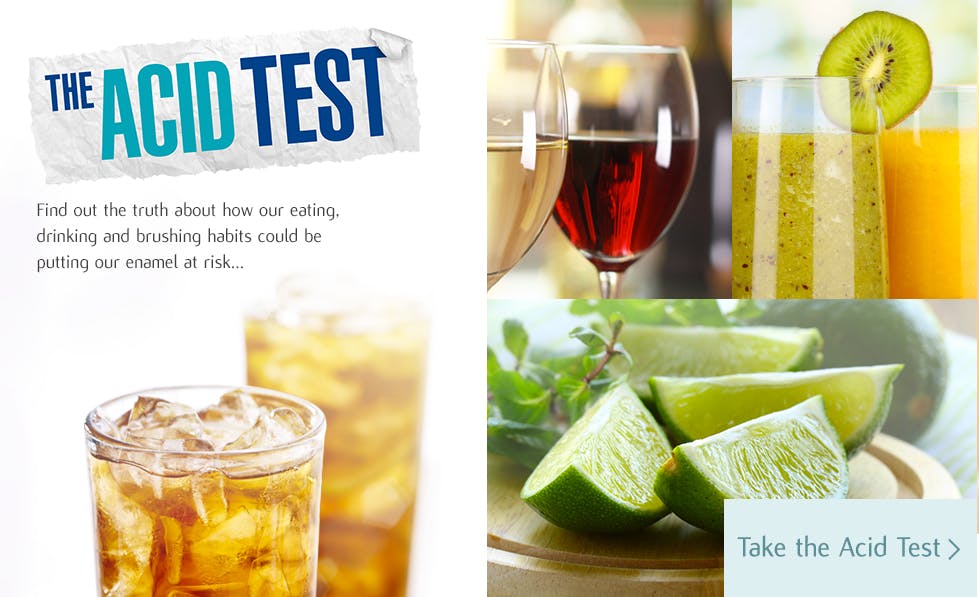 Q1
How many times a day do you eat or drink something acidic, even in small quantities?
Q2
How many times a day do you eat fresh fruit, even in small quantities?
Q3
How many times a day do you drink fruit or vegetable juice, even in small quantities?
Q4
How many times a day do you drink soft drinks, energy or Isotonic drinks, even in small quantities?
Q5
Do you regularly brush your teeth less than 1 hour after eating?
Q6
Do you swish, swirl or hold your drink in your mouth?
We may not be able to see the effects of Acid Wear, but a dentist will be checking for the early signs at the same time as they're checking for tooth decay or tooth pain.

Even if our teeth may look healthy today, they can be at risk from these 5 effects: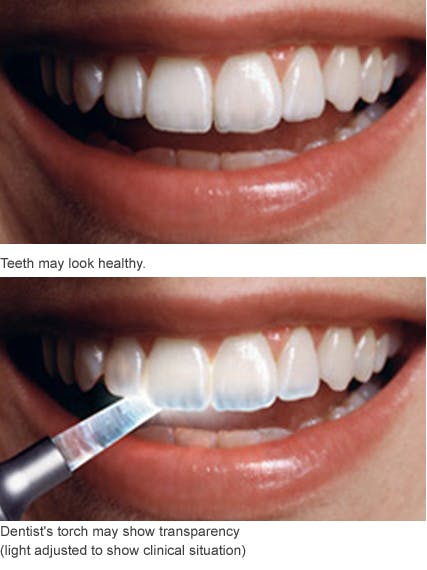 1
Weak
the acids in everyday food and drink can weaken enamel making it easier to wear away
2
Thin
as more enamel wears away teeth can become visibly thinner
3
Transparent or See-through
as the enamel thins, the edges of your teeth can appear transparent or see-through
4
Yellow
as our weakened enamel is worn-away, the more yellow tooth layer underneath can become more visible
5
Dull
as the enamel wears away our teeth may lose their shine, making them appear dull
We can start protecting our teeth today, to help prevent Acid Wear getting any worse.
Having an acid-rich diet that can put our teeth at risk is much easier than you'd expect. As few as four acidic 'moments' throughout the day can put our enamel at risk from Acid Wear also known as Acid Erosion.

It's not just the soft drinks, coffee or wine; surprisingly it can even be our healthier choices: fruit, fruit juices, sparkling water with lemon, even salad dressings can count towards our daily acidic 'moments'.

If our diet is healthy, let's not change it. Let's make sure that we're protecting our precious enamel.

Enjoy fruit without fear, let a soft drink add sparkle to our day and celebrate life with a glass of champagne – knowing that our teeth can be protected for the future.

For more information on acid wear, please visit your dentist.

Blueberries
Lemon Juice
Wine
Sports Drinks
Tonic Water
Carbonated Soft Drinks
Oranges
Plums
Iced Tea
Strawberries
Grapefruit Juice
Vinegar
Apple Sauce
Apple Juice
Salad Dressing
Orange Juice
Root Beer
Honey
Tomato Ketchup
Vegetables
Seedless Raisins
Vitamin C Effervescent Tablets
Beer
Lemon Yoghurt
Pears
Carrot Juice
Beetroot Juice
Sour Milk
Natural Yoghurt

Yoghurt Orange Drink

Probiotic Yoghurt

Bananas